Josiah Henson Museum and Park
Josiah Henson Museum & Park tells the story about the life and challenges of Reverend Josiah Henson, enslavement in Maryland, and the ongoing struggles of racial equality and justice.
Visit JHM&P and experience interactive audio and visual presentations. Explore the park. Engage in personal or group reflection. Engage with the archaeology sites throughout the grounds.
About
Josiah Henson Museum & Park is the former plantation property of Isaac Riley where Reverend Josiah Henson was enslaved. This park is a historic resource of local, state, national and international significance because of its association with Reverend Henson, whose 1849 autobiography, The Life of Josiah Henson, Formerly a Slave, Now an Inhabitant of Canada inspired Harriet Beecher Stowe's landmark novel, Uncle Tom's Cabin. The Park contains the historic Riley/Bolten House (1800-1815) and its attached log kitchen (1850-51). Ongoing archaeological excavations seek to find where Josiah Henson may have lived on the site.
The Josiah Henson Museum & Park is part of the National Park Service National Underground Railroad Network to Freedom program.
Henson eventually escaped to Canada in 1830, where he helped established Dawn Settlement, a community inhabited by former American slaves, continued his work in the Methodist ministry, and became an international speaker and abolitionist. Henson led 118 people from enslavement in the United States to freedom in Canada, as a conductor on the Underground Railroad.
Many of Henson's experiences of life enslaved on the Riley plantation are vividly depicted in his autobiography and later recreated in Stowe's fictional novel, Uncle Tom's Cabin. The impact of Stowe's novel should not be underestimated. Published in 1852, it broke all sales records of the time and sold more than half a million copies by 1857. The book inspired and inflamed the abolitionist movement in the mid-nineteenth century, and many believe the novel helped to propel the American Civil War.
Because of the historical associations of the Josiah Henson Museum & Park, it is among few properties in Montgomery County that conjures up images of slavery and the experience of the enslaved. The museum strives to accurately portray Henson's life and the Maryland slave experience as well as to explore the impact of Stowe's novel. Josiah Henson was a freedom fighter. His legacy is an important part of African American history.
Visit
Welcome to the Josiah Henson Museum & Park! Discover Rev. Henson's early life experiences through multimedia exhibits located throughout the museum and grounds. Learn about the 19th-century plantation through archaeological displays. Explore the park to engage in personal and group reflection.
PARKING: Available only at the Kennedy-Shriver Aquatic Center located across the street, one and a half blocks away at Wall Local Park, 5900 Executive Boulevard, N. Bethesda. Limited accessible parking is available on site.
You will begin your journey in the visitor center where you will find indoor and outdoor interpretive exhibits, an eclectic museum shop, and an 80-person multipurpose theater featuring the 12-minute orientation film, My Name is Josiah Henson.
Josiah Henson Museum of African-Canadian History, Ontario, Canada
Trace Reverend Henson's footsteps to his final home in Ontario Canada. Visit Josiah Henson Museum of African-Canadian History to learn more about Reverend Henson's life and work at Dawn Settlement in Canada.
Museum & Exhibits
Continue to the historic Riley-Bolten House to explore the life of Josiah Henson from enslavement endured on the Riley plantation, to freedom in Dresden, Ontario as told in his own words-dramatically illustrated by artist Kyle Baker. While Henson's story ends, the legacy of slavery does not. As we must address how the effects of the enslavement of African Americans still ripple through our society today.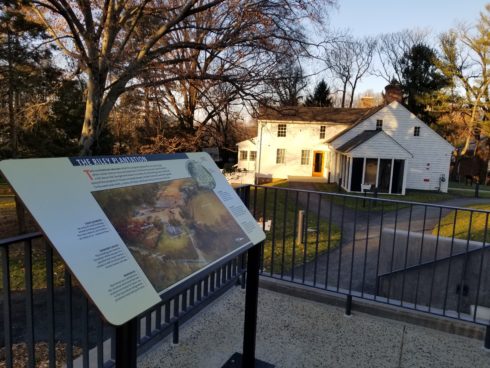 My hope is that people will come to understand who the Rev. Josiah Henson truly was, a man of tremendous strength, intelligence, loyalty, and of great faith. That individuals will walk away understanding the current use of "Uncle Tom" as a derogatory term is not at all who the real Uncle Tom was. The real Uncle Tom was a Hero, a family man, a man who risked his life on countless occasions by helping others escape slavery. A man to be Proud of. This platform will help to change the current narrative with so many and teach upcoming generations of his life and the many contributions he made to the US and Canada.

Mia M. Lewis
Josiah Henson's Great-Great-Great-Great-Granddaughter
Listen to Mia Anderson's recent reflection on the Still Paying the Price: Reparations in Real Terms podcast: